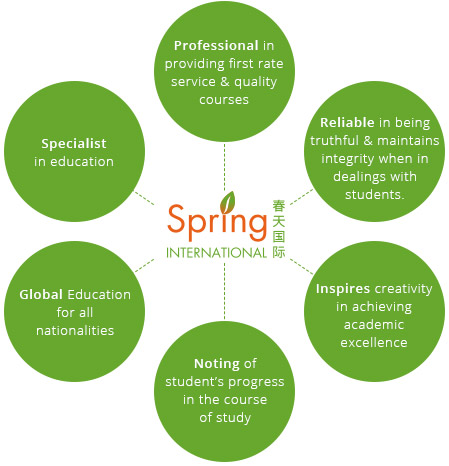 Spring College International was established in 2001 and is registered with Singapore's Committee for Private Education (CPE) is part of SkillsFuture Singapore (SSG) and has been awarded Edutrust Provisional Certificate (Cert No: EDU-3-3075,Validity:29/01/2017-28/01/2018). SCI provide students with excellent teaching facilities and equipment as well as a team of highly dedicated, experienced and qualified teachers.
Spring College International (SCI) has two city campuses with the main campus located at Jurong East and branch campus at Bishan. Our city campuses are located at commercial centers, within walking distance to MRT Station, surrounded by public libraries, food centers, shopping center, supermarkets, banks and other public facilities. Our campus location provides students at SCI easy accessibility to transportation and lifestyle needs.
Students who are enrolled at our school comes from a diversity of countries, from Thailand, Vietnam, Indonesia, China, Hong Kong, Taiwan, Malaysia, Laos, Myanmar to the United States, France, Russia, Switzerland and other countries. The diversity of cultures allow students to enjoy the best language learning environment possible as it can enhance communication skills quickly, allowing students to adapt to their course of studies smoothly.
SCI's preparatory courses, certificate courses, diploma courses, advance diploma courses and other professional courses are introduced due to increasing market demands with the aim to equip students with future occupational needs. Our unique study trip courses have been well received by international students. Students have the opportunity to spend a memorable holiday during their study trip in Singapore and at the same time, strengthen international exchanges among students.
Apart from providing full-time courses for international students, SCI also provide part-time courses for local students such as communicational and professional language courses as well as customized training programs for companies and organizations to meet the ever-growing needs of our customers.
Here at SCI, we adopt an interactive, group-style teaching approach incorporated with multimedia teaching aids so as to capture student's interest. SCI uses an advanced learning management system where students and parents can monitor their learning progress anytime, anywhere.
We believe in providing a holistic education and we organize extra curriculum activities such as environmental protection and care for the elderly events for our students annually. We are concerned about our students' growth by instilling the right values to them. SCI have also set up a new media platform to strengthen communication between SCI alumni in hope of progressing to greater heights together.
I believed every single student to be special and have the potential to succeed, let him or her come to SCI and experience our caring learning environment.