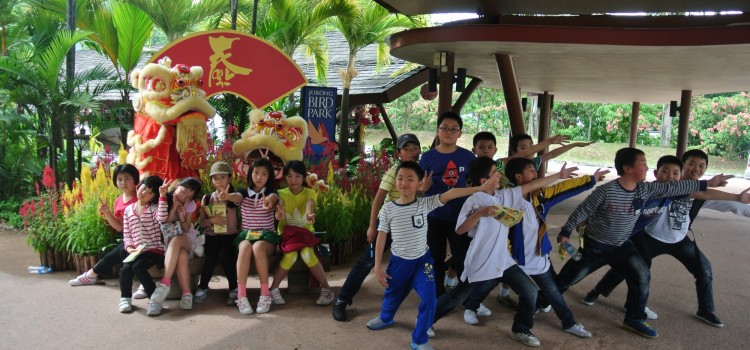 We believe that the best, as well as the fastest way to learn a language is by allowing the student to immerse into an environment that constantly makes use of the language. This will provide a suitable support for the student to apply the language learned and to improve his/her language proficiency by interaction with others.
This programme is specially designed for foreign students who would like to improve their Language in the shortest time possible, while taking the time to learn more about Singapore's culture and tour Singapore. With a group of at least 20 participants, this camp enhances learners' interest of English or Mandarin through engaging games and activities. Our short courses are theme-based, which allows for the learning through touring of Unique Singapore. It is an opportunity for students to develop their English/Mandarin Conversational skills in a stimulating environment that encourages language enrichment and development. Using our integrated learning approach, we ensure that all types of learners (visual, auditory and kinesthetic) will have the opportunity to develop their language skills. At the end of the camp, students will acquire better conversational skills; attain a deeper understanding of Singapore's culture, places of interest, living condition and learning environment, while gaining something precious – friendship.
Our Camp:
English Camp for Groups
Mandarin Camp for Groups
Why Singapore?
Singapore is a country where east meets west. The mixture of these two cultures will allow students from all parts of the world to feel at home in the environment
Being a multi-racial society, Singapore will definitely allow students to have an extraordinary cultural experience and enable them to develop a deeper understanding of the different races and cultures
Singapore is no doubt, considered to be one of the safest countries with high security and political stability
The public transport system is very well established, making it convenient for students to travel around if they would like to do so
There are many expatriates and foreign students residing in Singapore and thus, students will not feel out of place in the new environment.
Duration of Trip:
  7 /14/21 Days
Key Attractions:
Situational English learning, practical English drilling, visits to renowned university and famous tourist attractions, etc.
Class: Intensive training. Lessons are conducted by highly qualified and experienced teachers.
Tourist Attractions: Singapore River, Merlion Park, The Esplanade, Parliament House, Supreme Court, Shenton Way (Central Business District), HDB flats, Suntec City Convention Hall & its Fountain of Wealth, Botanic Garden, Bird Park, Singapore Zoological Gardens, Asian Civilisations Museum, Singapore Philatelic Museum, Singapore Science Centre, Chinatown, Universal Studio, Sentosa, Singapore's 4 Main religions tour: Little India's Hindu Temple, Sultan Mosque, Tian Hou Temple, St. Andrew's Cathedral, Orchard Road,
Accommodation:
Stay in a hotel resort located at a beach east of Singapore with beautiful scenery and environment.
Food:
Enjoy food choices for breakfast, lunch & dinner when at the resort.  When having outdoor activities, enjoy tour group meals.